Two Texas Tracks in Handicappers Top Ten Favorites
Keeneland Again Tops HANA Racetrack Ratings
By
Blood-Horse Staff
Updated: Saturday, April 6, 2013 9:42 AM
Posted: Friday, April 5, 2013 9:40 AM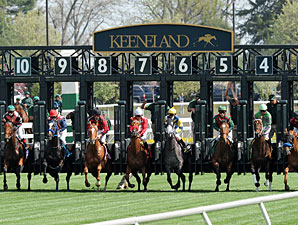 Photo: Mathea Kelley
For the fifth consecutive year, Keeneland, which begins its spring meet April 5, topped the 2013 racetrack ratings produced by the Horseplayers Association of North America.
The HANA Racetrack Ratings are based on an algorithm designed by HANA board member Bill Weaver, a retired engineer. Using studies and empirical data directly correlated to horseplayer value and pari-mutuel handle growth, key factors including takeout rate, field size, wager variety, pool size, and signal distribution are weighted.
"The rating algorithm indicates betting value, and at Keeneland this is exemplified perfectly," HANA president Jeff Platt said. "With no takeout rate on any bet higher than 19%, a large field size of 9.45 horses per race, and a race office cognizant of carding interesting, bettable races for customers, Keeneland came out on top once again."
"It's an honor for Keeneland to be recognized by HANA for the fifth consecutive year as the nation's No. 1 track for horseplayers," Keeneland president Bill Thomason said. "We are fortunate to have large, quality fields, and strive to offer a wide variety of wagering options and a reasonable takeout rate. We remain committed to showcasing horse racing in a way that appeals to all horseplayers and appreciate HANA's recognition of those efforts."
Keeneland was followed by Churchill Downs, Gulfstream Park, Tampa Bay Downs, Kentucky Downs, Sam Houston Race Park, Oaklawn Park, Hawthorne Race Course, Saratoga Race Course, and Retama Park.
The complete llist of ratings will be available at the HANA website the week of April 7.